During the fall of 1968, a small group of Chinese people in Mid-Hudson Valley started to form an association for sponsoring the coming Chinese New Year party. They put a few candidate names on a ballot along with proposed by-laws. The ballots were mailed to all the people they knew how to contact and asked them to vote for the officers, trustees, and to provide their approval of the proposed by-laws. After a count of the returned written ballots, Dr. Richard Chu was elected as the first President of MHCCA. John Lu as the Vice President and Prof. Chin as the Secretary. With the help of many others, they organized the first MHCCA Chinese New Year party which was held in February 1969 at the former IBM Country Club (Casperkill Country Club today). It was attended by over 350 people including children. They had a catered Chinese dinner from the Canton Chinese Restaurant (which was then on Main Street in Poughkeepsie) served in the field house. After the dinner, Dr. Chu delivered his inauguration speech, outlining his proposed activities for the coming year. It was a 10 minute talk followed by an entertaining program, of which main part was ballroom dancing. It was a semi-formal affair with everyone dressed up as they might be for a wedding reception. It was a very happy and succesful event and the party lasted until midnight ......
Since then each year MHCCA will re-elect the board of MHCCA to serve the members for the following year.
The following people served as the presidents and the vice presidents of the MHCCA:
1968 --- 1969 朱兆凡 (Richard Chu), 吴伯奮
1970 何宜慈, John Lu ?,蕭慕岳
1971 童虎, 郭鲁泰
1972 任德新, Julia Lee
1973 張宜華, 黄索倫
1974 丁崇玉, Peter 辛?, 黄索倫
1975 章哲民, 張源
1976 丁崇玉, 丘文甫
1977 李麗君, 刘兆華
1978 Rosa Shen, 陳俊偉
1979 Harvey于, Lily 黄
1980 傅衍,
1981 陳銀莲
1982 楊孝威,曹宏文 ?, 郭红
1983 陸永興
1984 曹宏文
......
1987 郭景民
1988 吴绍茂
1989 雲天一 (Daniel Win)
1990 章安發, 黄端凌
1991 周逸駒, Julia Candee
1993 陳旭晟 (Steve Chen), 王安瓊 (Julia Wang)
1994 陳銀莲, 陸啟文
1995 蔡培燕, 劉秋練
1996 童元培, 劉秋練
1997 葉其中, 温新全
1998 葉青, 沈贤能
1999 傅麗卿, 梅绍寧
2000 --- 2003 梅绍寧, 吴志坚
2003 --- 2004 潘美玉 (Alice Wong)
2004 --- 2005 袁安源 (Arthur Yuan)
2005 --- 2007 王寧五 (Ning-Wu Wang)
2007 --- 2009 蔡培燕 ( Peiyan Tsai )
2009 --- 2011 周如鸿 (Ruhong Zhou)
2011 --- 2012 張宏光 (John Zhang)
2012 --- 2013 蔡培燕 (Peiyan Tsai)
2013 --- 2014 潘美玉 (Alice Wong)
2014 --- 2015 &nbsp Acting President: 劉建平 John Liu
The current president of the MHCCA:
2015 --- 2016 潘美玉 Alice Wong
The current directors of MHCCA:
President Alice Wong 潘美玉
President Jianping Liu 刘建平
Vice-President Yue Tan 谭悦
Secretary Geng Wang 王耕
Treasurer Liping Zhu 朱麗萍
Director Ziping Wang 王子平
Director Joyce Li 张中红
Director Yan Yan 颜燕
Director Catherine Shih 石鐘宜芝
Director Jonathan Wong 黄海平
Advisor Peiyan Tsai 蔡培燕
Advisor Yong Bao 鲍咏
Advisor Ying Wang 王穎
Advisor Shaoning Mei 梅紹寧
Advisor Zhengguo Chen 陳正國
Advisor Peipei Qiu 丘培培
Advisor Gina Lee 李靖娜
MHCCA Mission
- Promotes understanding and the enhancement of cooperation among members through social contacts.
- A nonpolitical and nonprofit organization
2003:
We were very honored to be the winning recipient of the DCAC Grant Award 2 years in a roll, 2003 & 2004 accordingly.
This is the 2003 (first time) award ceremony.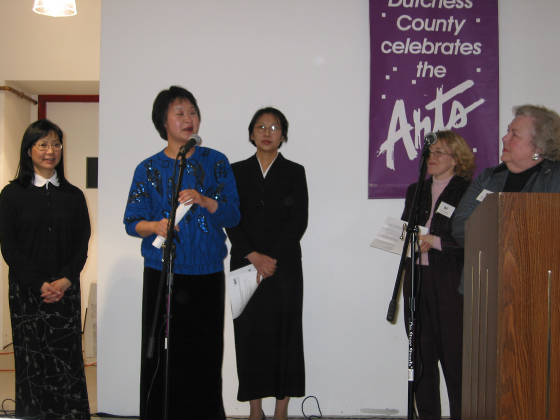 DCAC Grant Award , 2003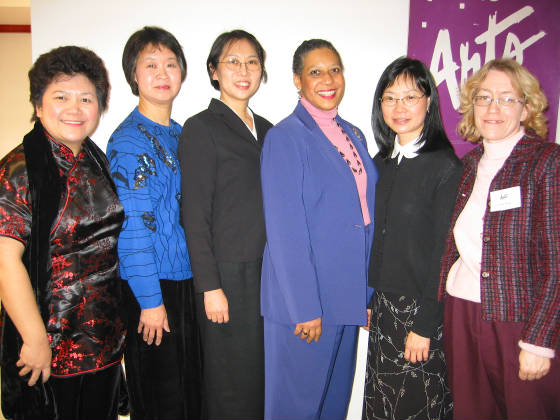 DCAC Grant Award , 2003
Dutchess County Project Grant Award 2004
February 26 2004
Representatives from the Xuaxia Chinese School Drum Team, MHCCA Women's Dance Team and Directors of MHCCA attended the ceremony and received the award from the Dutchess County Arts Council.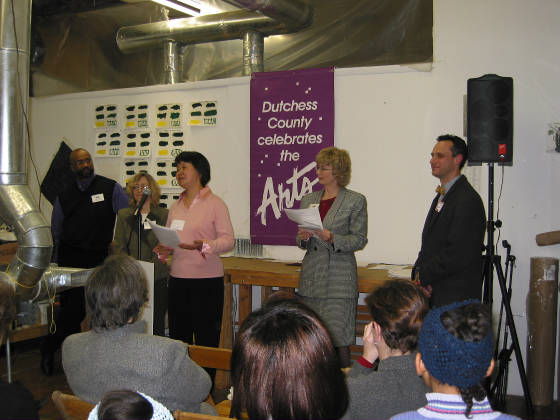 2004 Dutchess County Porject Grant Award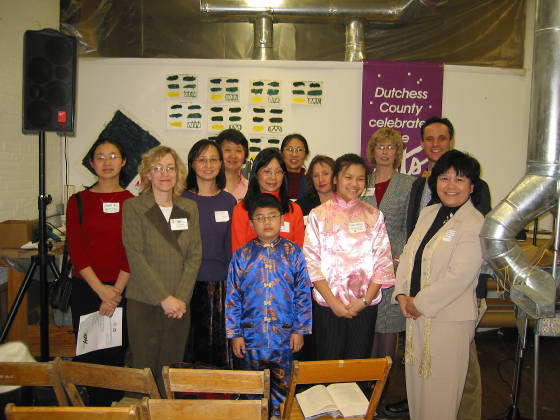 2004 Dutchess County Project Grant Award